The Rickey's Bookend Year
Glendale Prep and Archway Glendale May 24, 2023 -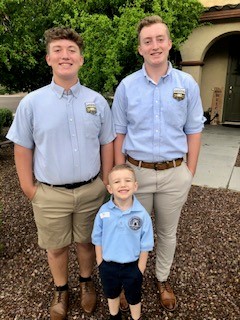 The Rickey family is celebrating the high school graduation of their eldest son, Jacob Rickey, a senior at Glendale Prep. At the same time, this family of five is also celebrating their youngest son, Joseph Rickey, as he completes his first year at Archway Glendale as a kindergartener. Jon and Angela Rickey have three sons, Jacob – 18, Josh – 15, and Joseph – 6. There's an old TV trick used in 80's and 90's sitcoms to boost ratings. As child actors in the sitcom family got older, producers would often introduce a younger actor as the cute kid with quick one-liners. As you can see by the large gap between Joseph and his brothers, the Rickey family has followed this proven sitcom formula.
Their father, Jon, serves as Great Hearts Arizona's Director of Athletics, and helped start Glendale Prep almost 16 years ago, as the academy's first Athletic Director. "Part of what has been great this year is that Jacob drives Josh and Joseph to school each morning and Jacob walks Joseph to the front door of the Archway," said Jon. "I know there are some great conversations that take place and a sense of camaraderie that they are heading in together to do their best."
Angela is mom to this household full of boys, not to mention the juxtaposition of helping one son with his reading while helping her other son with college decisions. "I have called this the year of the 'bookends.' It's been wonderful to see the start of the academic process with a kindergartner learning letters, and eventually learning to read over the course of the year; at the same time, watching the culmination of the end of an academic career with a senior thesis capstone project happening and how far the learning has come! And of course, as a mom, both bookend moments make me a bit teary at times," said Angela.
"It is pretty surreal," said Jon. "I feel that as soon as high school hit, everything went by so fast. On the flip side, to have a Kindergartener, it is very interesting to have the emotions that I do. I feel so much more at ease attending parent meetings and welcome nights because we have already done this before. Albeit, it has been a while! On the other hand, going to my first Senior Dinner as a parent and helping my son fill out college forms and papers, that is very uneasy and I don't know what to expect. I'll take sitting on a kinder classroom chair for a teacher's Open House any day over sitting in a size-appropriate chair discussing what financial responsibilities will look like for a college student and their family. Having both is definitely keeping us young and on our toes."
As his time at Glendale Prep comes to an end, Jacob has begun to reflect on his high school experiences. "I have really enjoyed playing football and basketball my entire career at Glendale Prep. I love the sports and making friends, and the community that I have built with my teammates has been valuable to me. It has also pushed me to be a leader and to push my body."
"I love being a student mentor because I am able to help younger students get to know GP and keep the community progressing to the positive," said Jacob. "I love to help my community at GP because I feel I am leaving my mark by showing them how to be a GP student," said Jacob. "I like Physics because you find out the answers to questions by doing labs, testing, and discovering what the correct answer is. Math is very logical and ordered and I love that part of it!"
With graduation coming quickly, Jacob is excited to attend Grand Canyon University in the fall to study Electrical Engineering. But Jacob knows he is going to miss his morning routine with his little brother. "It's really fun to drop him off at school, and it's great to help him get ready in the morning and take him to his classes. It is sad towards the end of the year that I won't see him as much next year. I am also realizing that I won't see him at all very much as well when I'm at college," said Jacob. "But I'm still excited to graduate and go to college!"
"I am looking forward to growing as a student and in my faith. I would love to coach football and basketball, and mentor other students like my teachers mentored me. The faculty and staff at Glendale Prep are truly the best of any school in Arizona," continued Jacob. "Shoutouts to Ms. Weaver, Mr. Roper, Mr. Maratea, Mr. Navarrette, and all of my former coaches!"
While an age gap and eventually distance will separate them, we predict these brothers, and this family, will remain close-knit and great-hearted.
Read more about the Rickey brothers in a feature article from Epic Kids Magazine: https://issuu.com/egpublishing/docs/epickids_0523_online/s/24506163
Do you have a story or know of a story that you would like to see featured at Great Hearts?  Please contactjason.moore@greathearts.org.