Maryvale Prep Graduate to Study Abroad in Italy
Maryvale Prep May 26, 2023 -
"Maryvale Prep has been both invaluable and integral in teaching me how to be hard working and successful in leadership activities at school, in sports, and in my community." – Nadiya Myers
Maryvale Preparatory Academy is graduating its second class of seniors this year. A leader among her peers and pillar of the community, senior Nadiya Myers reflects on her time at Great Hearts, her determination, and her unwavering sense of self.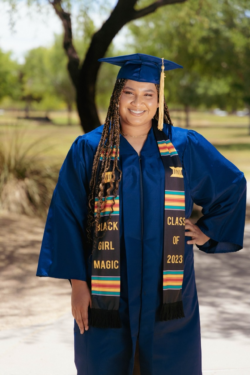 Matador of the Year in 2019, three-time Track & Field State Champion, basketball captain of the two-time State Championship team, and volleyball captain of the two-time State Semifinals team, Nadiya is a student who has excelled in both academics and athletics. She has consistently demonstrated her dedication, commitment, and leadership both on and off the field. As a standout Matador over the years, Nadiya has shown courage and grace under pressure in every game, earning the respect and admiration of not only coaches and teammates but even opponents as well. She is a true exemplar for her peers, embodying the values of hard work, sportsmanship, and above all else – integrity.
In addition to her athletic achievements, Nadiya has distinguished herself in the classroom. She has pushed herself academically, earning a weighted GPA of 4.47 and passing her senior thesis defense with excellence. Nadiya has also been active in Maryvale's drama program, taking on the role of Puck in A Midsummer's Night during her junior year, followed by Mrs. Higgins of Pygmalion in the senior play.
"During her junior year, I can distinctly remember Nadiya applying her Physics lessons to track and field. Specifically, she intentionally applied the ideas of torque to shot-put – and now look at her accomplishments!" recalls Mr. Josh Smith.
"Here at Maryvale Prep, we are concerned with preparing scholars for college, a virtuous life, and leadership in the community," says Miss Anaïs Wolpert, Dean of Academics and Studio Art teacher. "Having known Nadiya since her sixth-grade year in a number of capacities, I have no doubt that she is well-poised to thrive and to make an impact in her field of interest. Nadiya espouses each one of our virtues and pillars, from citizenship and humility to the pursuit of excellence and collaboration. She is someone who has always maintained high standards for herself in academics, athletics, and conduct; I am proud to have witnessed her many starring roles in Drama, triumphs in Studio Art, exhilarating wins in basketball and volleyball, and her masterful thesis defense entitled Knowledge is Power and Education is the Path to Freedom."
As her high school career comes to a close, Nadiya reflects on the lessons she has learned and the community that has supported her. "I am grateful for the opportunities and experiences that Maryvale Preparatory Academy has provided me," she says. "I have grown as a student, an athlete, and a person, and I am excited to see what the future holds."
Looking forward to future endeavors, Nadiya plans to study Biology at the College of Science at the University of Arizona with the ultimate goal of attending medical school and becoming a cardiothoracic surgeon. She is excited to continue her academic and athletic pursuits at the next level and to make a positive impact within her community. Furthermore, Nadiya Myers has been awarded the prestigious Dorrance Scholarship. Selected from a pool of highly competitive applicants, the Dorrance Scholarship covers the full cost of attendance at the University of Arizona, including tuition, fees, room and board, and a study abroad experience in Orvieto, Italy amounting to over $100,000. Nadiya's outstanding achievements and well-deserved recognition as a Dorrance Scholar are a testament to her hard work, dedication, and commitment to excellence, placing her as one of the only 600 scholars awarded the Dorrance Scholarship since 1999. She is an inspiration to her peers, future cohorts of Matadors, and a true reflection of the values and ideals of a Great-Hearted student.
Do you have a story or know of a story that you would like to see featured at Great Hearts?  Please contact jason.moore@greathearts.org.