An Anthem Student's Journey to Transforming Dreams into a Library
Great Hearts Anthem November 16, 2023 -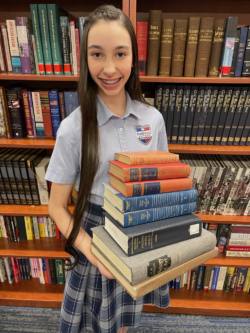 At Great Hearts Anthem, a determined sophomore student, Lydia Luehrs, embarked on a mission to bring to life a dream she had nurtured since her early days when Great Hearts Anthem was using a rented space. "I love our school and the unique opportunities we have here, but I have often wished we had a library," said Luehrs. Prior to moving into their permanent home, Great Hearts Anthem lacked a dedicated library space. "When I heard the news that we would be moving to a new campus, one of the most exciting prospects for me was that there would be libraries for both Archway and Prep."
Luehrs' connection to Great Hearts Anthem runs deep, having been a part of the school community since she was a kindergartener. Despite the exciting prospect of dedicated libraries, she soon discovered that the libraries were facing significant challenges. "Due to budget constraints, we didn't have many books in the Archway and Prep libraries," said Doug Pillsbury, Assistant Headmaster at Great Hearts Anthem. But Luehrs had already proven herself to be an exceptional high school student.
"Miss Luehrs is a mentor, one of the 30 high school students who are the key student leaders," explained Pillsbury. "Entrance in the program is via an application process and a vote by teachers. Miss Luehrs was voted in unanimously by her teachers."
Luehrs' original goal was to collect 1,000 books by the end of the summer and gift them to the school in hopes of stirring up some momentum – or at least allowing a small collection to be available for student use this school year. This number was chosen because in the state of Arizona, a library is defined as a collection of at least 1,000 books.
"This goal was easily met with the help of book donations from family and friends along with community member's support," explained Luehrs. "A retiring teacher sold us most of her collection for 25 cents per book and more than once a customer or associate at Goodwill gave us their 20% off coupon when they found out we were buying books for the library. This was all very exciting, however I quickly realized that in order to actually have the libraries open to students, a lot more administrative work had to be done. As the school year began, I talked with Mr. Pillsbury again to redefine the scope of the work and the library project was born!"
Her journey proved to be a lesson in leadership, teamwork, and the transformative power of perseverance. "Lydia has organized all her efforts through the two headmasters, PSO, reading specialists, etc," said Pillsbury. "Her communication is excellent. She has done an amazing job by filling each library with Great Hearts missionally aligned and approved texts."
She is extremely pleased with how far they've come, and she is the first to say that she did not do this all on her own. "I am thankful for my hard-working teammates Esther and Brielle," she said. "And I am grateful for the support of Mrs. Richard, Mr. Withers, Ms. Clark, Mrs. Manzella, and especially Mr. Pillsbury who set up the mentoring program which gave us the platform to do all of this in the first place."
Reflecting on her experience, Luehrs imparts this valuable advice to aspiring student leaders who want to take on a big project like this:
You have to choose something you are passionate about so you are driven by desire
You must confirm with your leaders that you understand their vision, be sure you have their trust
You have to see the big picture, but don't underestimate how much the vision could change as details become more clear
You can't do it alone. Carefully choose teammates who share your desire and who want to collaborate, not compete
You have to express gratitude to your leaders and teammates regularly
You have to be disciplined and dependable. Hold yourself accountable to follow through and manage your time
You have to excel at communication, it should be frequent and accurate
You have to understand that attitude really is everything, negativity halts progress
You have to be flexible
Don't underestimate your ability to grow. Be willing to try new things, learn new skills, and research
Nothing new happens in your comfort zone. Take calculated risks, and don't beat yourself up when you fumble sometimes
Receive criticism and coaching graciously
Expect it to be harder than it looks
In the end, the Library Project stands as a testament to the impact a determined student can have on their school community. Through her leadership and commitment, Luehrs not only fulfilled her dream of having libraries at Great Hearts Anthem but also left a lasting legacy for future generations of students to enjoy.
Do you have a story or know of a story that you would like to see featured at Great Hearts?  Please contact jmoore@greatheartsamerica.org.