Lincoln Prep Valedictorian and Salutatorians
Lincoln Prep May 24, 2023 -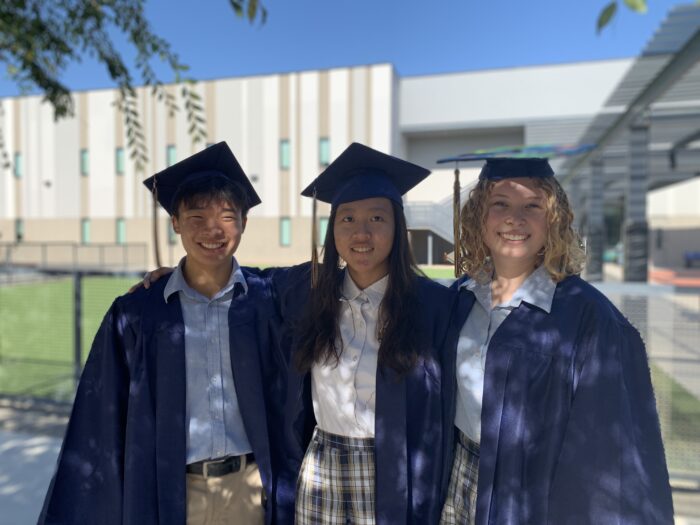 Jasmine Tu has been selected as the Class of 2023 Valedictorian for Lincoln Prep. Geoffrey Kim and Gillian Krebs join Tu as Class of 2023 Co-Salutatorians. These awards are the highest honors that Lincoln Preparatory Academy bestows on their student body. "All three of these seniors worked extremely hard to earn this award, and we are incredibly proud of them," said Headmaster Alexander Julian in an email that went out to Lincoln Prep families.
Jasmine Tu will attend Barrett, the Honors College at Arizona State University to study architecture. College Counselor, Rachel Corcos, says Jasmine is a pillar of the school community and has served as a Lead Student Mentor. "Our Mentors are selected through a rigorous application and interview process and only a select few become lead mentors. Jasmine was also selected as a student 'consul' for our new house system this year. This is the highest recognition available on campus. In this role, Jasmine is in charge of her 'house', helps plan events, ignite school spirit, and encourage lighthearted competition on campus," said Corcos.
"Jasmine is unique – she is not into technology or social media. Instead, she prefers to spend her time on the arts including a slew of artistic talents like piano, clarinet, sewing, and calligraphy," continued Corcos. "She spends her time looking up new recipes to try, or new sewing patterns to learn. One of her favorite things she has made and something she is most proud of is when she sewed herself a new tennis bag. She is truly gifted in the arts." Jasmine's talents extend to the art of language. "In her home, her family exclusively speaks Mandarin, while at school she speaks perfect English and is learning Latin/Greek. She also decided to start studying Spanish in her free time." In addition to all her other extracurriculars, Jasmine also enjoyed competing on the tennis team.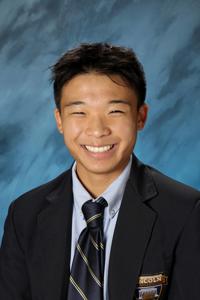 Last fall, Geoffrey Kim received two congressional recognitions nominations for both the Air Force Academy and the Military Academy from Congressman Andy Biggs. He is planning to attend the Air Force Academy in the fall.
Corcos remembers Geoffrey telling her in 9th grade that it was his goal to attend a service academy. "It's pretty impressive that he got in, but more impressive that he stuck with the goal all through high school," said Corcos.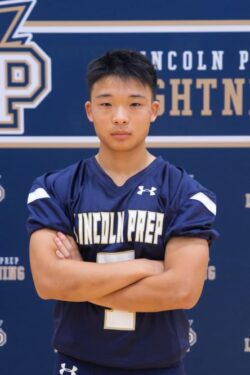 He has competed and won countless accolades, competing nationally and internationally, in his 13 years of training in Taekwondo, in which he is ranked 4th dan black belt. That means he started when he was just four years old. "Taekwondo taught him courtesy, integrity, self-control, perseverance, and indomitable spirit," said Geoffrey's dad. "When Geo was 12, he participated in national championships. In the open weight category, he confronted a foot taller and year older competitor, literally a goliath figure and lost the game due to an obvious disadvantage in height and weight. He never gave up and withstood 3 rounds of hard fighting against everyone's expectations. We all watched that match with tears and heartbreaking pain. He did not win the match, but I believe this to be one of the key moments demonstrating his tenacity and motivation to power through all obstacles even at such a young age. He has volunteered his time to assist in a teaching role as a junior instructor."
He also started piano lessons when he was four and still plays to this day. Even with his busy schedule in piano lessons, Taekwondo lessons, and being an honor student, he still found time to compete with his high school varsity football team and track team.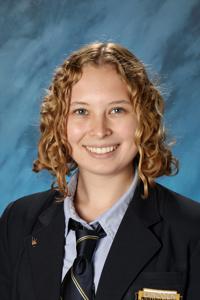 Gillian Krebs is heading to Macalester College in the fall where she will be playing collegiate basketball and studying chemistry with the intention of becoming a pharmaceutical engineer. She's excited to take lab classes for the first time at Macalester.
This year her favorite class was calculus because she loves solving puzzles and being challenged. Her favorite books in the curriculum included every play by Shakespeare because she loves the drama and the absurdity of the plots.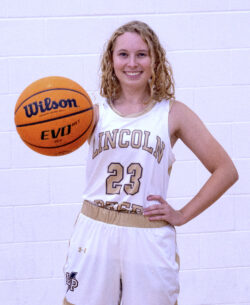 Dr. Rodriguez and his many clubs and extracurriculars are what Gillian says influenced her the most. She was in band for five years and his class for three, and she was lucky enough to have him as her thesis advisor. Gillian says that she truly believes his teaching made her a better person, if not at least funnier. As her thesis advisor, he challenged her on her ideas the way no one else could and she believes she owes that to the fact that they have known each other for so long.
Gillian has been a part of the Lincoln community since 5th grade and one of her favorite memories is simply having grown up with this group of people and being so close as to call them family. She loves looking back at old yearbook photos and realizing how long they have all been friends and recalling their crazy 5th and 10th grade years. A piece of advice she would give to younger Lincoln students is to stick with it. In her own words, "Lincoln is not a big, normal school, and it doesn't try to be, which I absolutely love and I'm sure you will to."
She was also selected as a student 'consul' for the new house system this year. Gillian served on the Student Athlete Leadership Council was named the 1A East Region Player of the Year.
Congratulations to all three seniors for this high honor. We look forward to seeing great things in the future from these graduates of the class of 2023! Do you have a story or know of a story that you would like to see featured at Great Hearts?  Please contact jason.moore@greathearts.org.